JavaServer Pages (JSP) is one solution to providing dynamic web content.
Coding JSP is easier than coding Java servlets. With JSP, you change static text by changing HTML and with Java servlets, you change static text by modifying a Java servlet + compiling!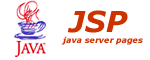 Oxxus.net has more then 4 years in JSP hosting industry and 1,500+ JSP developers hosted on our highly reliable & secure servers, you've got a winning team behind you, 24x7!