Why ?
SUPPORT doesn't just mean technical-support. Support stands for a complete Support SYSTEM, a multi-dymentional system where all components work simultaneously to support your apps.

Top-notch Service is what makes Oxxus stand apart the most. Our guiding beacon is "do for thy customer as you would for thy friend". This is what our support team has on their screen savers and what every decision is based on. "Should I suggest customer upgrade his plan?" "Would I suggest this to my friend?". You can call them on this once you join us. Our techs really go out of their way to help you and 300+ service reviews are a proof of that claim.
We believe DIY is a very important component of a support system. Over the years we have compiled a WIKI, an extensive collection of support docs to help you help yourself. Having access to full support documentation means you can find an answer you need in a matter of minutes instead of having to wait around for someone else to help you. This enables you to have independence in your work

.

UK or US datacenter You can select to have your account in a datacenter closest to your target customers to improve performance and speed of your apps. You'll be asked to select a datacenter when you place your order. Read more about our datacenter and network.

Performance We don't waste our energy with other things, everything at Oxxus.net is geared towards Java hosting. Our techs will be able to assist you in optimizing the performance of your apps. Now that is something you will definitely not be able to get from a non-specialised hosting provider.
3 Platforms So you get a choice of your hosting environment. Options: Private JVM on a shared nod server, VPS server with full root access and a dedicated server managed by our sys admins (should you require it).

Oxxus culture Often overlooked factor but you host's culture will have a huge impact on your business (and your work-stress levels :). There's just 1 degree of separation between you and the company owner (no rigid beurocratic structures here). We're a tight knit team of 8 and within the first month of being with us you're likely to meet each one of us. We don't employ 5tier tech support system, every Oxxus tech is a capable sys admin and will be able to assist you (<5% of tickets need to be escalated).
Learn more about our company values or meet our guys and gals.

Reliability We invest heavily in ensuring your apps are stable and online at all times. The most common problem effecting reliability of java apps are memory leaks. To provent this we've developed a monitoring and restoration system that monitors your server and automatically reboots it if down. It also notifies you of what the error log reported so that you can take action and fix the issue to prevent recurrance. We have also implemented a Tomcat and JBoss clustering failover solution. This service is free of charge for a limited time.
Our Support System includes comprehensive protection against the worst-case scenarios. All servers have RAID 10 protecting from hardware failures, redundant network protecting from network failures, gratis weekly backups of your image protecting you from malicious or accidental damage and loss of data.

Technology Because 70% of our customers are java developers our Servers and hardware are custom-built for java. Every technology we implement is aimed towards achieving top-notch performance for java apps - making them more stable, reliable and fast.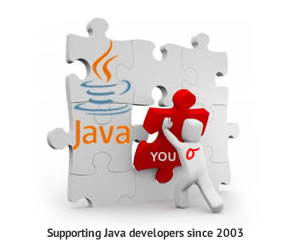 OXXUS
OUR CUSTOMER REVIEWS
Boris has gone beyond what I expected by installing the packages I was looking for, and providing documentation for what he has done. This has saved me considerable time and effort. Thank you!