Contents
Install Wordpress blog
First of all client has to have ability to access the server where the WordPress is to be installed at.
The latest version can be obtained at http://wordpress.org/download/ which will be provided in a form of archive file. The archive contents, or the archive itself in order to be unarchived later, has to be uploaded to the web site's assigned place.
A client has to be able to access database server residing at the server where the WordPress will be installed in order to create needed database which the WordPress will use while operating. Also the
wp-config-sample.php file to has to be renamed to wp-config.php.
Open wp-config.php in your favorite text editor in order to fill out the database accessing details.
Once the configuration file is done you can access your WordPress installation script pointing the browser to the place where the WordPress archive's contents has been placed at the
wp-admin/install.php
.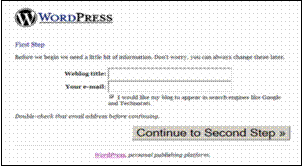 After the accessing the install.php script the initial welcome page would appear at the browser's main window.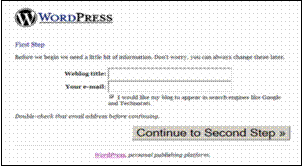 When Working Title and e-mail address are stated the installation can be continued.